AFFILIATE PROGRAM: invite friends and win $100
How does the Affiliate Guest Program work?
The more people sign up for the Ecobanka Careers job offer, the greater the improvement in the access of professional talent to have competitive work teams.
First, you must be registered with Ecobanka Careers and it is not necessary/mandatory that you have previously made the registration to a job offer published.
---
Get money when you invite a friend.
We have a reward program for spreading the word about Ecobanka Careers. The Global invitation program for which you receive $100 each time 3 friends invited by you register for a job vacancy offered at Ecobanka Careers.
That's it! Start inviting your friends now.
---
 

Don't miss this opportunity!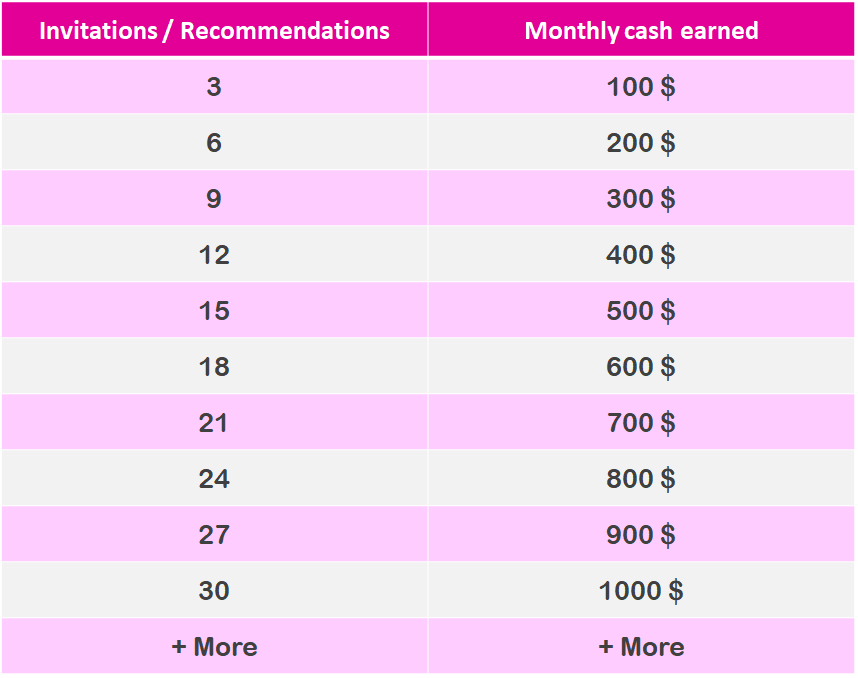 ---
How do I invite my friends?
Inviting your friends is easy, just share with them your unique invitation link and have them sign up for a job offer on Ecobanka Careers. You can find your invitation link on your invitation page.
Remember, your friends will need to register using your link and register for a job offer for your guests to count. 
You'll need to verify your identity before we can pay your reward.
---
Offer details.
You can win the reward by invitation multiple times... just invite more friends.
To count as a successful invitation to your reward, every friend who signs up using your invitation has to complete a job vacancy registration at Ecobanka Careers.
Each guest can count as valid only in a program of invitations in case it is changed.
The standard reward amount is $100 (or equivalent) each time 3 friends invited by you register for a job vacancy offered at Ecobanka Careers, but the reward may vary in different regions, or during special promotional periods or campaigns. The different terms and conditions will be displayed on the referral invitation or included with the promotional material. You can see which invitation program has been assigned to you on your invitations page.
The reward will be sent to a bank account in your own name.
We reserve the right to remove access to the Invites and Wins program or to refuse payment of a reward if we suspect deception or activity that we determine as abusive (for example, inviting yourself/yourself, inviting fictitious people, or already registered users) or damaging the Ecobanka Careers brand (for example, in connection with explicitly sexual, discriminatory or illegal content).
We reserve the right to modify the terms of our offer at any time. By continuing to invite friends after an update of the terms, you are indicating that you are accepting them.
Sometimes we test different invitation programs, and you could be a part of them. As such, we reserve the right to correct, alter or modify the guest program offer at any time.
---